System Integration
Simple Thought Productions produces shows year round from the Mayors office to the little league field. Our productions require us to develop multiple solutions to deliver the best production possible. This often requires us utilizing specialized equipment from several manufactures. Simple Thought Productions is proud to be a certified re-seller and integrator for Datavideo products. We also offer solutions from Blackmagic, Canon, Sony and others.
How it works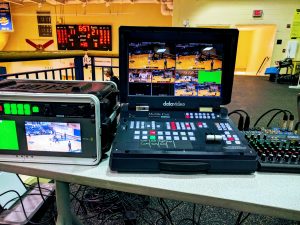 Simple Thought Productions will work with you to fully understand your needs and desires. From there we will outline several suggested options from you to select from. These can then be further refined as we utilize our real world production experience to ensure the best possible solution. This will result in savings in both time and money for each of our clients.
After the build and delivery we move onto training. Every turnkey solution we deliver comes with dedicated training to ensure that you and your staff can make the most of your investment. As-Built documents ensure that future expansions will know how the systems are put together and how they can be expanded without wasting time reverse engineering the system. This also makes any repairs quick and easy.