Click To Watch The Highlights!
Click the image to watch the goals. If you want to buy the Game DVD add it to your cart
What do I get with the DVDs?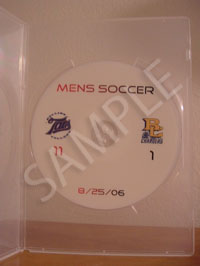 Sample Image
Full quality video not compressed for the web
Menu System allowing you to view 1st Half, 2nd Half, and highlights in any order.
DVD surface is directly printed on for quality, NOT a stick on label
Clear case to hold & protect the DVD
Memories
Game Summary
---
From RollinsSports.com
WINTER PARK, Fla. (November 15, 2007) – The Rollins men's basketball team won a tight contest against the Southeastern University Fire 75-72 on Thursday evening at Warden Arena.
Rollins was led by senior point guard Jonny Reibel who notched 24 points, six assists and four steals, going 12-15 from the charity stripe. Freshmen Jeremy Sharpe and Nick Wolf each had big night with Sharpe tallying 17 points and sinking 8-14 shots from the field. Wolf had an excellent debut with a double-double of 14 points and 11 boards.
After winning the opening tip-off, the Tars looked solid, building a four point lead (12-8) over the Fire with 14:34 remaining the half. The momentum quickly shifted as Fire guard Nathan Marshall put Southeastern up by two by draining a three (12-14). With 50 seconds left on the clock in the first half, Reibel made 1-2 free throws to give the Tars another four point lead (39-35). As the seconds ticked off the clock, Marshall made a lay-up to cut the Tars' lead to two at the half (39-37).
The Fire came out of the locker room wasting no time as senior guard Anthony Turner tied the score 39-39 with a lay-up. The Tars would not see the lead or even a tie score until Reibel ran down the floor and was fouled after he made a crucial lay-up (55-55). Southeastern once again took the Tars' thunder as they led by as many as five points until two free throws by Reibel, a jumper by Sharpe and a lay-up by Wolf gave Rollins back the lead (63-62).
With 10 seconds left on the clock, Rollins put together a five point lead. The Fire attempted to close the gap with a three pointer by forward Jordan McKenna (74-72). As time expired, Southeastern fouled Reibel as he made 1-2 free throws (75-72).
The Tars (1-0) will be back in action tomorrow, November 16 when they host the Puerto Rico Bayamon Cowboys at 7:00 p.m. Fans can watch and listen to all the action live on the Tars Sports Network at www.RollinsSports.tv.
---