Click the image to watch the goals. If you want to buy the Game DVD add it to your cart
What do I get with the DVDs?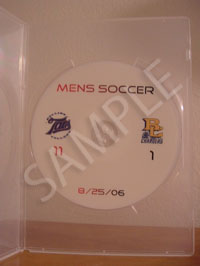 Sample Image
Full quality video not compressed for the web
Menu System allowing you to view 1st Half, 2nd Half, and highlights in any order.
DVD surface is directly printed on for quality, NOT a stick on label
Clear case to hold & protect the DVD
Memories
Game Summary
---
From RollinsSports.com
Kevin Hogan netted a career high 25 points to lead four Tars in double figures as the Rollins men's basketball team downed Puerto Rico-Bayamon 101-73 on Friday. The win pushes Rollins to 2-0 on the season while Bayamon falls to 0-1.
Hogan shot 5-8 from long range and 6-6 of the charity stripe while also adding six rebounds. Jonny Reibel added 13 points while Craig Reichel put up 11 points and pulled down a game high seven rebounds. Jeremy Sharpe added 10 points for Rollins.
The Tars shot 50 percent (15-30) in the first half and 67 percent (18-27) in the second to finish the game at 58 percent from the floor. Rollins held a huge advantage on the boards, 44-27.
The Cowboys opened the game with a three pointer, but Rollins outscored their visitors 26-4 over the next 12 minutes to go up 26-7. A pair of free throws by Hogan at the 6:33 mark pushed the lead to 21 before Bayamon went on a 9-1 run and cut the lead to 13 with five minutes left in the half. The Tars, however, pushed back and held a 20 point advantage going into the locker room.
Rollins began the second frame on an 11-3 run as Hogan drained three straight from long range and Sharpe added the exclamation point with a dunk, putting the Tars up 58-30. The lead ballooned to 37, 75-38 midway through the half before Rollins put it on cruise control the rest of the way.
The Tars will be back in action on Wednesday, November 21 when they host Puerto Rico-Cayey at 2:00 p.m. Fans can watch and listen to all the action live on the Tars Sports Network at www.RollinsSports.tv.
---