Click the image to watch the goals. If you want to buy the Game DVD add it to your cart
What do I get with the DVDs?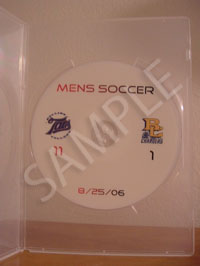 Sample Image
Full quality video not compressed for the web
Menu System allowing you to view 1st Half, 2nd Half, and highlights in any order.
DVD surface is directly printed on for quality, NOT a stick on label
Clear case to hold & protect the DVD
Memories
Game Summary
WINTER PARK, Fla. (November 21, 2007) – The Rollins men's basketball team continued its dominant early season run with a 91-49 win over Puerto Rico-Cayey at Warden Arena on Wednesday afternoon. The Tars improved to 4-0 with the win, while the Bulls dropped to 0-2 with the loss.
Four Rollins players scored in double-digits, with junior center Craig Reichel and freshman guard Jeremy Sharpe leading the team with 16 points. Sophomore forward Brock Blanchard set a career high with 15 points off the bench, including a 3-4 performance from the three-point line. Sophomore forward Ryan Ferranti joined Blanchard with a new career high of his own, 12 points off the bench. Senior point guard Jonny Reibel was one point away from his second straight double-double, scoring nine and adding 10 assists, while Reichel was one rebound shy of a points-rebounds double-double.
Luis Collazo led P.R.-Cayey with 17 points, including five three-pointers. Ivan Ortiz added 12 points and a team-leading eight rebounds. Emmanuel Rivera dished out seven assists.
The teams played even through the game's first 10 minutes, matching each other 16-16, but a three-pointer by freshman guard Ian Scott started a 24-2 run for Rollins. Three-pointers by Scott, freshman guard Nick Wolf, Blanchard, Sharpe, and Reichel highlighted the scoring streak. The Tars entered halftime with a 22-point lead thanks to a trey by Reichel with 12 seconds left.
Ortiz converted on four straight free throws to open the second half, but Rollins then out-scored the opponents 19-5 over the next five minutes. A 13-3 run closed the game on a good note, giving the Tars a 42-point victory.
Rollins finished the game shooting 56.9 percent, besting the Bulls by over 20 percentage points (32.1 percent). The Tars also controlled the inside game, out-rebounding their opponents 41-27 and scoring 34 points in the paint to the Bulls' 12. Rollins also received huge contributions from the bench, scoring 40 of their 91 points with the reserves.
The Tars will be back in action on Friday, November 30 against St. Thomas at Warden Arena. Tip-off is scheduled for 7:00 p.m., and fans can watch and listen to all the action live at the Tars Sports Network at www.RollinsSports.tv.