Click the image to watch the goals. If you want to buy the Game DVD add it to your cart
What do I get with the DVDs?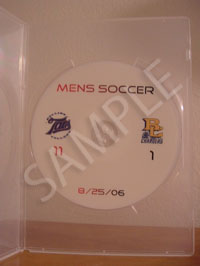 Sample Image
Full quality video not compressed for the web
Menu System allowing you to view 1st Half, 2nd Half, and highlights in any order.
DVD surface is directly printed on for quality, NOT a stick on label
Clear case to hold & protect the DVD
Memories
Game Summary
WINTER PARK, Fla. (November 21, 2007) – The Rollins women's basketball team opened with a 19-0 run and never looked back, downing Puerto Rico-Cayey 75-27 on Wednesday.
Jessica Pressley netted 11 points, behind 3-4 shooting from long range, to lead 13 Tars (2-0) who scored. Brittany Parker was also 3-4 from beyond the arc and added nine points with Jessica Barker chipping in eight. Ines Teuma added seven points and pulled down a game-high 10 rebounds. Senior point guard Jennifer Musgrove filled up the stat sheet with six points, four rebounds, four assists, four steals and three blocks.
The Tars, who shot 38 percent from the field to the Bulls 21 percent, owned a huge advantage on the glass, 56-34.
Nicole Davila led Cayey (0-2) with 14 points and seven rebounds while Lynette Irizarry added four points and eight rebounds.
Teuma opened scoring with a tip-in 20 seconds into the game and the Tars rolled from there, going up 19-0 after a Parker three pointer with 12 minutes left in the half. Cayey got on the board mid-way through the half, but a 12-1 Rollins spurt over the next five minutes put Rollins up 31-3. Morgan Loughrey hit a layup in the final minute of the half to make the score 40-11 heading into the break.
In the second half, Musgrove connected on a jumper with 16:40 left to spark a 9-0 run to put the Tars up 42, 54-14. Janelle DeVaul connected on a jumper with two minutes left to push the lead to 48, only to have Cayey knock down a three the next time down the floor, making the score 72-27. Freshman Heidi Lacks answered with a three of her own in the final seconds to cap off the Tars 75-27 victory.
The Rollins women's basketball team will be back in action on Friday, November 23 when they open up the Rollins College Thanksgiving Classic. The Tars will take on Puerto Rico-Bayamon at 2 p.m., followed by West Virginia State vs. Puerto Rico-Rio Piedras at 4 p.m. The tournament will conclude on Saturday, November 24 with Rollins against Rio Piedras at 2 p.m. and WVS vs. Bayamon at 4 p.m. Fans can catch all the action of Rollins College basketball live on the Tars Sports Network at RollinsSports.tv.