Click the image to watch the goals. If you want to buy the Game DVD add it to your cart
What do I get with the DVDs?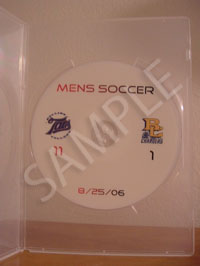 Sample Image
Full quality video not compressed for the web
Menu System allowing you to view 1st Half, 2nd Half, and highlights in any order.
DVD surface is directly printed on for quality, NOT a stick on label
Clear case to hold & protect the DVD
Memories
Game Summary
Five Tars scored in double-figures as the 8th ranked Rollins College men's basketball team downed the St. Thomas University Bobcats 86-63 on Friday evening at Warden Arena.
Craig Reichel and Brock Blanchard led the Tars with 17 points each with Reichel grabbing six rebounds. Jonny Reibel talled 15 points and eight assists while Greg Sweeney Jr. went 5-5 from the field, notching a season-high 12 points and six assists. Freshman Jeremy Sharpe totaled 10 points, going 5-6 from the floor. Freshman Nick Wolf had a career-high seven assists and seven boards.
The Tars (5-0) shot 65 percent from the field with 42 points in the paint, 22 points off of turnovers and an impressive 30 points off the bench.
The Tars and Bobcats kept it close at the start of the first half, but by the end of the stanza Rollins built a solid 17 point lead over St. Thomas with a layup from Wolf (41-24).
Rollins came out firing in the second half with an immediate three-pointer by Reichel to give the Tars a 20 point lead. The Tars would keep at least 20 point between them and the Bobcats until the final buzzer. Blanchard was a catalyst in the second half, registering 12 of his 17 total points.
Antonio Jones led the 3-2 Bobcats with 26 points going 14-19 from the charity stripe. Forward Reginald Owens tallied 18 points and eight boards going 50 percent from the floor.
The Tars will be back in action on Tuesday, December 4 at 7:00 p.m. when they host the Warner Southern Royals. Fans can watch and listen to all the action live at the Tars Sports Network at www.RollinsSports.tv.