Click the image to watch the goals. If you want to buy the Game DVD add it to your cart
What do I get with the DVDs?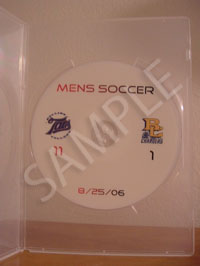 Sample Image
Full quality video not compressed for the web
Menu System allowing you to view 1st Half, 2nd Half, and highlights in any order.
DVD surface is directly printed on for quality, NOT a stick on label
Clear case to hold & protect the DVD
Memories
Game Summary
Nick Wolf had a career-high 23 points to lead Rollins past Warner Southern 81-67 on Tuesday evening at Warden Arena. The Tars record improves to 6-0 while the Royals fall to 6-1.

Adding to Wolf's 23 points (8-11 from the field) and 11 rebounds off the bench was Jonny Reibel with 22 points and nine assists. Kevin Hogan tallied 17 points, behind 5-8 shooting from long-range, while Craig Reichel added had a season-high 10 boards, six points, two assists and one block.

The Tars started off cold, not scoring their first points until almost four minutes into the game when Reibel knocked down his first three pointer of the night, making the score 3-6. Rollins would take the lead from the Royals at the 15 minute mark, 11-8 and built a 39-28 halftime lead.

In the first half, Rollins balanced attack produced 12 points in the paint, six off of turnovers, four second chance points and 13 points off the bench.

The Royals came out of the locker room and cut the lead to nine with a layup from Preston Adams, but the Tars answered back with two free throws from Reibel to push the lead back to double digits, 41-30. The visitors fought back to within four before a pair of layups and a three-pointer by Wolf put the Tars up by nine, 54-45 halfway through the frame. Warner got as close as six with seven minutes left, but the Tars outscored the Royals 18-10 the rest of the way to post the 14 point win and stay perfect on the year.

Adams led the Royals with 15 points and five rebounds while Mike Tolliver notched 14 points going 4-4 from long range.

The Tars (6-0) will be back in action when they travel to Las Vegas for the Las Vegas Desert Classic on December 18-19. Again the tournament will feature some of the top teams in Division II with the Tars taking on No. 8 Drury and No. 18 Central Missouri State.