Click the image to watch the goals. If you want to buy the Game DVD add it to your cart
What do I get with the DVDs?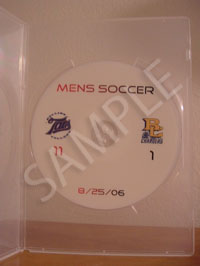 Sample Image
Full quality video not compressed for the web
Menu System allowing you to view 1st Half, 2nd Half, and highlights in any order.
DVD surface is directly printed on for quality, NOT a stick on label
Clear case to hold & protect the DVD
Memories
Game Summary
After thirteen days away from the game court Rollins was able to lock in a 50-40 win over Flagler College in the second half. The Tars move to 5-1 for the season, while the Saints descend to a 2-8 total record.
Leading the Tars for the day was senior guard Jennifer Musgrove who walked away from the court with her first double-double of the season, posting 11 points and 10 rebounds. Musgrove also topped the team with 4 assists, 5 steals, and sinking 5 of 8 free throws.
Right behind Musgrove in points were junior Rachael Malatesta and sophomore Jessica Pressley with 9 points each. Pressley had a stellar day in the paint with an 80% average completing 4 out of 5 field goals. Junior forward Ines Teuma was able to pull in 9 rebounds for the day, leading the Tars in the defensive end.
It was a tough game for both sides, and Rollins was down by four points at the end of a hard-fought first half. After a layup by Teuma got the game started, the Tars were ahead until thirteen minutes left in the half. The Saints were able to match up with the Tars and keep them at bay until eight minutes were left and Rollins was able to put another jumper up on the scoreboard.
The Tars were able to pull out of their slump in the second half, but catching up to the Saints was no easy task. With very strong defensive units fighting for the ball on both ends it made both teams step up their offensive game. After a hard fought second half, Rollins was able to pull ahead of Flagler with nine minutes left and from that point on the Tars were able to hold on to their lead.
Rollins will once again have a long break before their next game. The Tars will have twelve days until they travel to Albany, Georgia, to play Fort Valley State on the 28th and Albany State on the 29th in their first away games of the season. Fans can listen to all the action live at the Tars Sports Network at www.RollinsSports.tv.