Click the image to watch the goals. If you want to buy the Game DVD add it to your cart
What do I get with the DVDs?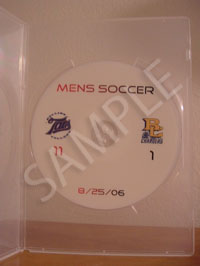 Sample Image
Full quality video not compressed for the web
Menu System allowing you to view 1st Half, 2nd Half, and highlights in any order.
DVD surface is directly printed on for quality, NOT a stick on label
Clear case to hold & protect the DVD
Memories
Game Summary
Four Tars scored in double-figures as the fourth-ranked Rollins men's basketball team took out the Columbia Union Pioneers 92-64 at the 33rd Annual Winter Park Rotary Tangerine Tournament on Saturday evening.
Guard Kevin Hogan led all scorers with 25 points going 7-9 from long range and 9-11 from the floor. Craig Reichel followed closely with a season-high 23 points, five rebounds and five assists. Freshman Jeremy Sharpe netted 12 points, including three dunks, going 6-11 from the field. Senior Jonny Reibel finished out the major scoring for the Tars with his third double-double of the season with 10 points and 12 assists.
Columbia Union held the lead for a brief opening minute of the game 0-2 (18:53). It seemed like it would be all Rollins as the Tars built an 11 point lead over the Pioneers with 10 minutes left in the half. Columbia Union came back to be within one, 24-23, as guard Tim Turner caught fire scoring seven of the Pioneer's 10 points. The Tars were able to expand their lead going into the locker room as Reichel put Rollins up by seven at halftime buzzer, 41-34.
Hogan's five points and Reichel's nine in the opening minutes of the second helped the Tars jump out to a 20 point lead with 14 minutes remaining, 59-39. With five minutes left in the game, Rollins held a 30 point lead over the Pioneers, 82-52. Three pointers by Reibel, Brock Blanchard and Ian Scott put Rollins up by 33 with 1:50 left in the game. Columbia Union would cut that lead to 28 as the final seconds ticked off of the clock, 92-64.
Rollins dominated Columbia Union in the paint outscoring the Pioneers 30 to 12, but the Pioneers battled back with 21 points off of Rollins' turnovers. The Tars' bench scored 18, while Columbia Union's bench tallied 17.
The Pioneers (0-11) were led by guard Dana Clark who notched 20 points and five boards going 4-10 from three point range and 7-19 from the floor. Turner had 17 points, eight rebounds and five assists.
The 9-0 Tars will be back in action tomorrow, December 30 in the championship game against No. 13 USC Aiken at 4:30 p.m. Fans can listen and watch the action live at www.RollinsSports.tv.