Click the image to watch the goals. If you want to buy the Game DVD add it to your cart
What do I get with the DVDs?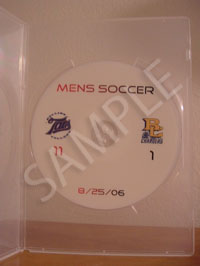 Sample Image
Full quality video not compressed for the web
Menu System allowing you to view 1st Half, 2nd Half, and highlights in any order.
DVD surface is directly printed on for quality, NOT a stick on label
Clear case to hold & protect the DVD
Memories
Game Summary
Craig Reichel led fifth ranked Rollins with 17 points as the Tars overpowered the Palm Beach Atlantic Sailfish 76-49 on Saturday afternoon at Warden Arena. The win brings the Tars record to 13-1 while the Sailfish fall to 2-14 on the season.
Reichel led the Tars with 17 points, five boards and three assists going 7-14 from the floor. Senior point guard Jonny Reibel netted 14 points dishing out five assists on the afternoon. Jeremy Sharpe rounded out the double-digit scoring with 11 points and three rebounds. Junior Chauncey Gibbs had a '07-'08 season high of nine points and six boards.
The Tars came out hot as they outscored the Sailfish 20-6 in points in the paint, 19-0 in points off of turnovers, 6-0 in fast break points and 18-2 in points off of the bench in the first period. Rollins' only deficit of the game came in the first 3:10 where they were down by one point with 16:47 remaining. Reichel got the Tars back on track with 12 of his 17 points coming in the first stanza.
As the halftime buzzer sounded, Rollins assembled a 32 point lead over Palm Beach Atlantic, 51-19. The Sailfish only shot 23.3 percent from the field, but made up for it at the line by shooting 83.3 percent in the first half. The Tars fired 57.1 percent from the field, 46.2 percent from beyond the arc and 71.4 percent from the stripe.
In the opening seconds of the second half, the Tars' momentum was in full swing as Kevin Hogan came out by shooting a three for Rollins, 54-19. The sharp shooting continued as Reichel buried a layup followed by a three pointer to give the Tars a 40 point margin over Palm Beach Atlantic, 59-19.
Forward Manny Lopez battled for the Sailfish as he had 16 points in the second period. The Tars (13-1) would finish off the Sailfish with a 27-point victory, 76-49.
Lopez led the 2-14 Sailfish with a double-double of 26 points and 13 rebounds.
Rollins will be back in action on Wednesday, January 16 when they host the Nova Southeastern Sharks (6-6, 1-1) at 7:30 p.m. Fans can listen to the action live on www.RollinsSports.tv.