Firestore FSH-200 Review
This is my second review of a DTE (Direct to Edit) Device. The Firestore FSH-200 uses Compact Flash Media to record DV and HDV content. One of the largest benefits of compact flash is that it is solid state. This means that there are no moving parts in the recording media so it can handle bumps and shocks in stride and keep recording. When it comes to recording methods for my company one of the important aspects I have to take into account is Archiving content. I have yet to find a replacement for tape when it comes to archiving masters for my clients that I like. At times I am asked to make a new edit or tweak one thing long after the complete job and I have to bring the content back into my editing suite. Blue Ray disks costs are still well above tape and they require burning after the fact. One can run a tape along side the FSH-200 and other DTEs and get an instant archive on tape that can live for years on the shelf until needed.
FSH-200 with Canon XL-H1A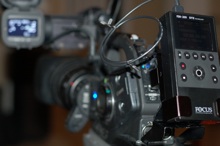 For this review we paired the Canon XL-H1A with the FSH-200. It is worth noting that the XL-H1A is not listed as being "fully" compatible with the FSH-200. The current list as of this review can be found here. During our testing however we were able to have the DTE sync with tape recording, record without tape, and provide time remaining and status info to the camera display. This would suggest the XL-H1A might be added as a "supported camera" in the future. Because of this link that displayed the FSH-200's status it allowed us to utilize the device with confidence while we shot some run and gun interviews. We knew when the device was recording and when it wasn't as well as the remaining disk space so we knew when we needed to switch out the media.
Storage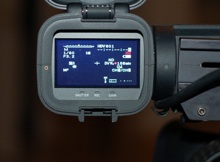 The Compact Flash provides the storage capacity for the FSH-200. While you can technically use any size you like You will probably want to work with 16GB or 32GB Cards.
A 16 GB card will give you 1.1 Hours of recording time in HDV and DV mode. If you utilize the Quicktime file format the storage will be slightly less. 32GBs will get you 2.2 Hours. With only one card slot this means that you have a recording limit of 2.2 hours with this device. One should be aware of this limitation if they are looking for a device for longer record times and might want to find a device that has multiple Card Slots that supports hot swapping.
Focus Enhancements suggests the Sandisk Extreme III 32GB
. For our review we saved some cash and went with the Kingston Elite Pro 32 GB 133x
While the media is technically a little slower there is a significant cost savings and we experienced no issues in terms of recording. The Kingston averaged a transfer rate on our Windows 7 Test system of 11 megabytes a second. With large files the increased speed of the Sandisk could easily justify the speed increase. Long story short either speed cards will work and both are faster than capturing from tape.
Size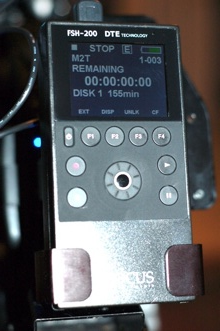 The size of the FSH-200 allows it to fit onto the back plate of the XL-H1A nicely using its mount. The kit comes with a mounting kit to bolt onto the the Hand held grip of most cameras. We opted to use this to mount it to the back plate. With a little extra padding it was fitted securely to the camera. Its physical size is 2.75 in. wide, 5.4 in. high, and 1.25 in. deep. This size is very small and fits nicely onto the back of the camera and is very light even with the battery and card installed.
Real World Use
None of the above matters if the FSH-200 cannot come through where it counts. Capturing your content and delivering it to your editor faster than you can when capturing tape. To put the FSH to the test we loaded it onto our camera for a few soccer games to see how it preformed. During the game we left the camera in Syncro mode so the device would record when the tape was recording. We also utilized the split record feature to have the FSH-200 create a new file after each goal which allowed for rapid editing of highlights. It is worth noting that doing this resulted in a small audio drop at the end and beginning of the next clip. When we did this when our announcer was not talking it was not noticeable as there appeared to be no video frames dropped. If the announcer was talking however the small droop stood out. In terms of file limitations if one uses UDF format the camera has no problem recording long video takes without having this drop out as it does not have to create a new file every 2 or 4GBs.
A few notes about actual usage. The Compact Flash Cards are very snug. Removing them takes some gentle rocking back and forth to free it. The battery also operates using a latch and a very tight fit. Per the instructions to remove the battery you have to press the release button and give the unit a shake to free the battery. As the unit is solid it seems to take this well but I was afraid I would drop the battery. With a little gaffers tape on the bottom I was able to provide my self with a tab to remove the battery with out fear of the battery taking an unexpected flight.
Media Formats
HDV Formats
.m2t 720p 24/25/30/50/60
.m2t 1080i 50/60
QuickTime 1080i 50/60
QuickTime 720p 30
DV Formats
AVI Type 1
AVI Type 2 | AVI Type 2 24p
QuickTime | QuickTime 24p
Canopus AVI
Matrox AVI
RawDV
Connections
Three connections are at the top of this device.
Firewire (6 Pin – 1394)
USB 2.0 (1 x USB-A female)
GPI and RS-232C control; 1 x 3.5mm minijack
It is worth noting that the Firewire connection is only for video capture. The USB interface is used to transfer data to a computer.
Conclusion
The FSH-200 provides an excellent solution for shooters to pair with their DV and HDV cameras. Using the FSH-200 allows the best of both worlds. Its price is worth considering but it is easily offset by the time it can save if you shoot large volumes of video that needs a quick turn around.