Wirecast Broadcaster
When you need to add titles and multiple inputs to your live broadcasts you have a few options. First you can get a live switcher and character generator. This is an obvious method but the equipment can be cost prohibitive. Wirecast steps in @ $449. (Educational Discounts are available). Be sure to shop around for the best price. There is also a $99 add on if you want to be able to process HDV material.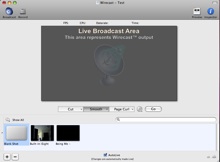 Main Wirecast Window
Quick Features:
OSX and Windows Versions Available.
Output to: WMS (windows version only), RTMP, Qucktime, Unicast, Multicast, Built In QT Server or WMS Server
Chromakey when using a dedicated video card that supports the feature
Encode in multiple formats and save to disk
Broadcast Settings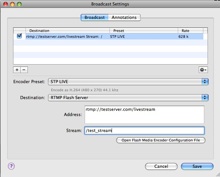 Broadcast Settings Window
On the broadcast page you setup where Wirecast is going to be broadcasting and saving the video. At the top you can add multiple destinations in multiple formats. We are using the OSX (Mac) Version so we have the ability to output to RTMP, QuickTime Streaming Server, Unicast, Multicast, utilize the built in server or record to disk. You can add as many destinations as you want but realize that each destination will require your computer to encode your source video to each format in real time. If you plan to encode to a lot of destinations you will need a fast CPU and some extra RAM to help it out.
Encoder Settings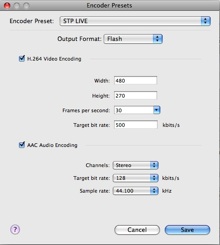 Encoder Settings Window
As far as encoder settings go only the basic ones are available when you set the output format to flash. H.264 Video which allows for settings for the: Frame Size, Frame Rate, Target Bitrate (note the encoding is variable). The Audio is similar in that AAC is the only format and you can set Stereo or Mono, Bitrate, and Sample Rate. If you want to encode to quicktime for a quick time streaming server you have more options in codecs availibile but often you only have the same settings available. H264 does get a quality slider option in Quicktime format though!
What can this thing really do?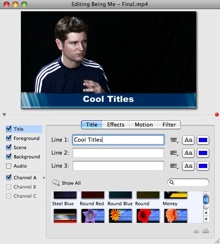 Wirecast Title Window
So lets get to the point, what can this thing really do that makes me want to shell out nearly $500? In a word, layers. Wirecast allows for multiple layers to be put into your stream. These layers can contain media to help enhance your video stream. The media can be Video, Audio, Images, or text. There are presets that allow you to combine multiple inputs onto one screen (think field news reporter talking to an anchor back in the studio). With enough CPU you have the ability to create some really cool content that can be streamed live or recorded to disk to be delivered on demand later. So lets take a look at a demo I made that combines multiple inputs and titles.
Wirecast Demo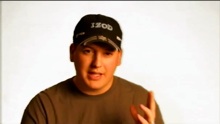 Click to Watch!
This demo will show you a quick video that was created by Wirecast. It uses two previously recorded mp4 files along with a live input from a webcam. I added some titles and transparent images to use.
Desktop Presenter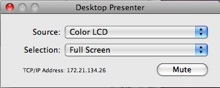 Desktop Presenter
Desktop Presenter is a small program that comes with Wirecast and is available as a PC or Mac Download. It is worth noting that it is a separate download from Wirecast which is available on the same page you download Wirecast from after logging into telestream's system. The software is quite simple in that when it is running it is capturing part or all of your desktop. You can set it to capture the entire screen or just one of multiple screens for people running them. You Can also set it to just capture a specific window, say Photoshop, which will follow the photoshop window around and you don't have to worry about leaving the window of interest in one place. Along with the image you can also capture the sound from that system if its playing back any. This can also be muted. The biggest place I have put this mini app to use is on presenters laptops. This allows me to sync their power points to the video and switch between them during the event saving me from having to do this afterwards.
Known Issues
While working with Wirecast I found a few things that I thought to be bugs. Most have little work around that solve the problem or at least allow you to deal with it. First up is the issue where Wire Cast and JW FLV (now longtail) do not seem to play nicely when working with 16:9 media. I have used the official Flash Media Encoder Live and do not have this issue so it seems to have somthing to do with how the meta data is sent from the encoder to the player. Basically 16:9 videos are displayed as 4:3. A temporary work around is to set the JW to Exact Fit. This works and looks good while the video is being played in a window format but if you go full screen it will stretch to fill the screen which will re-introduce the error if your content is 16:9 and the viewers monitor is a different aspect ratio. The other which is more of an improvement issue is that when you first start wirecast or import a file it polls the media and creates a thumbnail for the shot. That never updates so in terms of using multi cameras as a live switcher when they are shooting content in different areas you do not have a quick glance. The work around for this is to activate the preview monitor, disable the auto live and click to check before hitting the go button. This works but it would be nice if one could set a refresh of the image live or every few seconds.
Final Thoughts
Overall Wirecast offers a large set of tools to help enhance your broadcast. With multiple inputs you can mix together creating compelling content live has never been easier. Add to that the ability to archive for later distribution in multiple formats on the fly and you have a powerful tool.
Purchase
Wirecast can be purchased online via the Telestream online store.
Wirecast for Windows

Wirecast for Mac